'Tis the season, dog lovers!
My first dog as an adult was born right before Christmas. Even though he wasn't old enough to bring home at Christmas, I was ready and waiting for his homecoming to my house with many dog-errific gifts. Finding the perfect gift for your dog and dog-obsessed friends and family can be tricky. But it's so worth it to see their huge smile when they unwrap that awesome present!
If you're on the hunt for dog-errific gifts, look no further. Whether you are on the hunt for quirky, adorable or practical gifts for the dog-loving people and dogs in your life below. Finding local or small businesses that do good things for pet rescues was my focus.
A throw pillow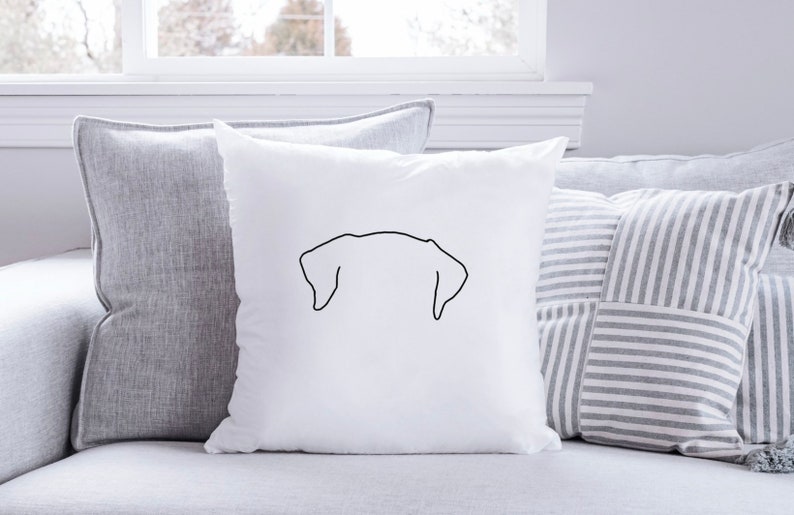 Who wouldn't love a custom Throw pillow of their beloved dogs ear outline? This Etsy shop owner is a local Syracuse resident. It is a very simple but classy pillow that can go anywhere. Just think about that person that just got a puppy or given to a friend to memorialize their best friend. Scroll through your friend's social media feed to find the perfect photo of their pet to use for the pillow design.
For your coffee-loving friend
Any coffee drinker would love Grounds & Hounds Rescue Roast. This small business donates 100% of its profits from their rescue roast to a new rescue organization every month. What a treat for your friend as well as the chosen rescue.
Small Business supporting other small businesses and rescues
Dog Daze Pet Shop  in North Syracuse is has a multitude of items to for a dogs Happy Holiday. From dog food & treats to toys and harnesses, you will find it all at Dog Daze.  Their great collection of items includes supplies from other  small  business owners.   Owners Dave and Ruth are always on the lookout for items that are healthy and sustainable like Jiminy's grub and cricket treats.  These treats are especially great for dogs with food allergy's or sensitivities.  They are an ambitious couple, trying to find ways to provide dogs with the healthiest ingredients.  To that end, they are developing their own line of Natural dog food.   Elsa's dog food is full of all natural ingredients.  When not in the shop, Dave and Ruth are either at local events or finding other ways to support animal rescue.  It's all in the family too.  Their therapeutic dog Elsa is always busy either visiting people in need or greeting guests at the store.  Be sure to give Elsa a greeting when you come in to visit. 
One-of-a-kind dog art
Imagine if you received a gift certificate for images of you and your soul dog. Or do you have a dear friend or family member whom you would love to gift a photo session? Here at Nancy Kieffer Photography I believe in being surrounded by artwork that bolsters your self-esteem, boosts your confidence and resonates unabashed acceptance and love. Pet portraits provide a visual reminder of unconditional love and support which strengthens us in times of need.
I help pet parents create treasured artwork that reflects their pets neverending love, connection and support. Photo Sessions are all about enjoying the journey with your pet doing the things you love to do while Nancy captures authentic moments. The results are transformed into beautiful wall art or treasured albums.
As a fierce believer in dog rescue, I volunteer for a local rescue and a portion of sales also goes to rescue.

What's the best dog-inspired gift you've ever gotten? Send me a pic at https://facebook.com/nancykiefferphotography
---
It's an International circle!
Join the fun! This group of International Professional Pet Photographers bring you information on our weekly topics. While we focus on one broad subject, we may each have a different spin on it or provide you with additional information from our world of pet photography. Follow the next link to view how the next amazing photographer tackles this weeks challenge. Follow each link at the end of each blog until you return to me. Then you have successfully completed our blog circle. Enjoy!
+++++ NOW head over to:
Nicole Hrustyk, of Pawtraits by Nicole, shares her surprising 2022 holiday gift guide.
---
Meet Cooper
Cooper is a sweet female walker hound who would love to be part of a family. She loves snuggles and loves attention. She is the perfect snuggle bug for you and your family. Cooper would excell in a home with children, other dogs, or cats. She loves to run around in the yard and play. A fenced in yard would be preferred for Cooper. Please contact Friends of Second chance
Friends of Second Chance Canine Adoption Shelter
6660 E. Seneca Turnpike
Jamesville, NY 13078
315-435-5584
---
Capture your journey with your pet. Nancy Kieffer is a Certified Professional Pet, Equine and Nature Photographer Through Professional Photographers of America (PPA). Nancy serves Central New York, the Adirondacks and Beyond. Capture how you share your life with your pet! It may be a vacation adventure or curled up on the couch with you. Travel assignments welcomed.